Greetings to all of our friends and family!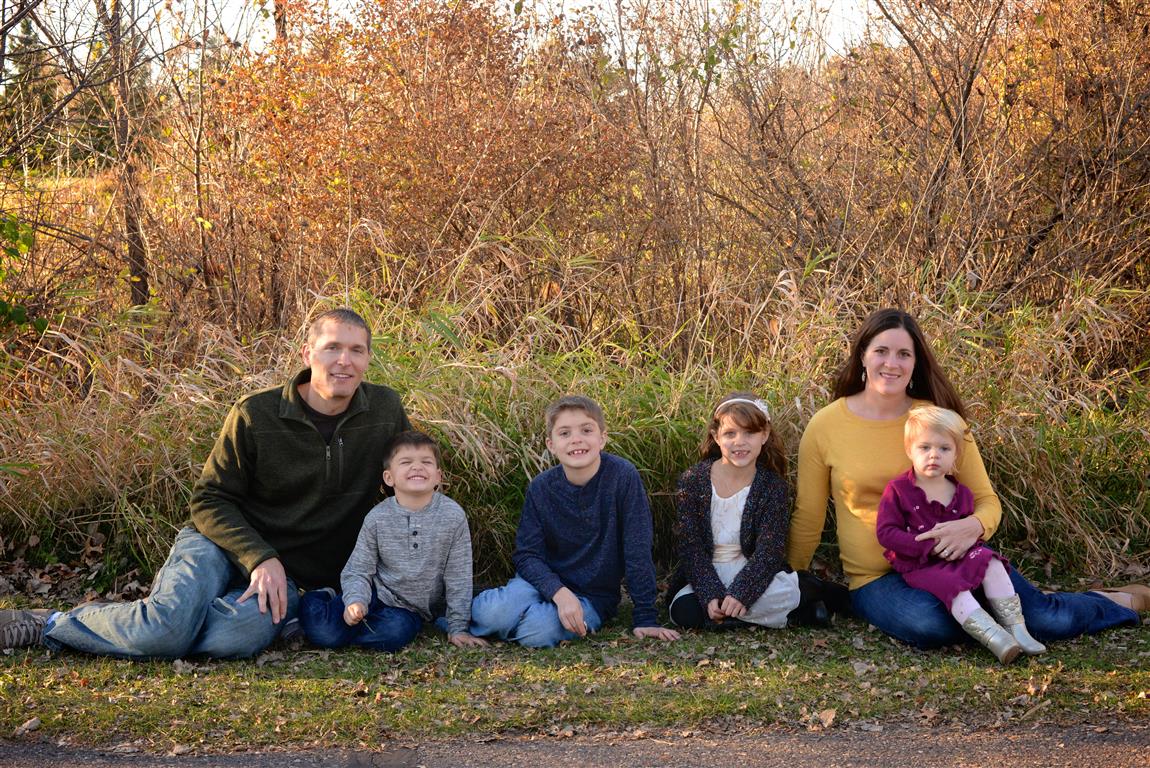 Happy Holidays!
Enjoy our year in review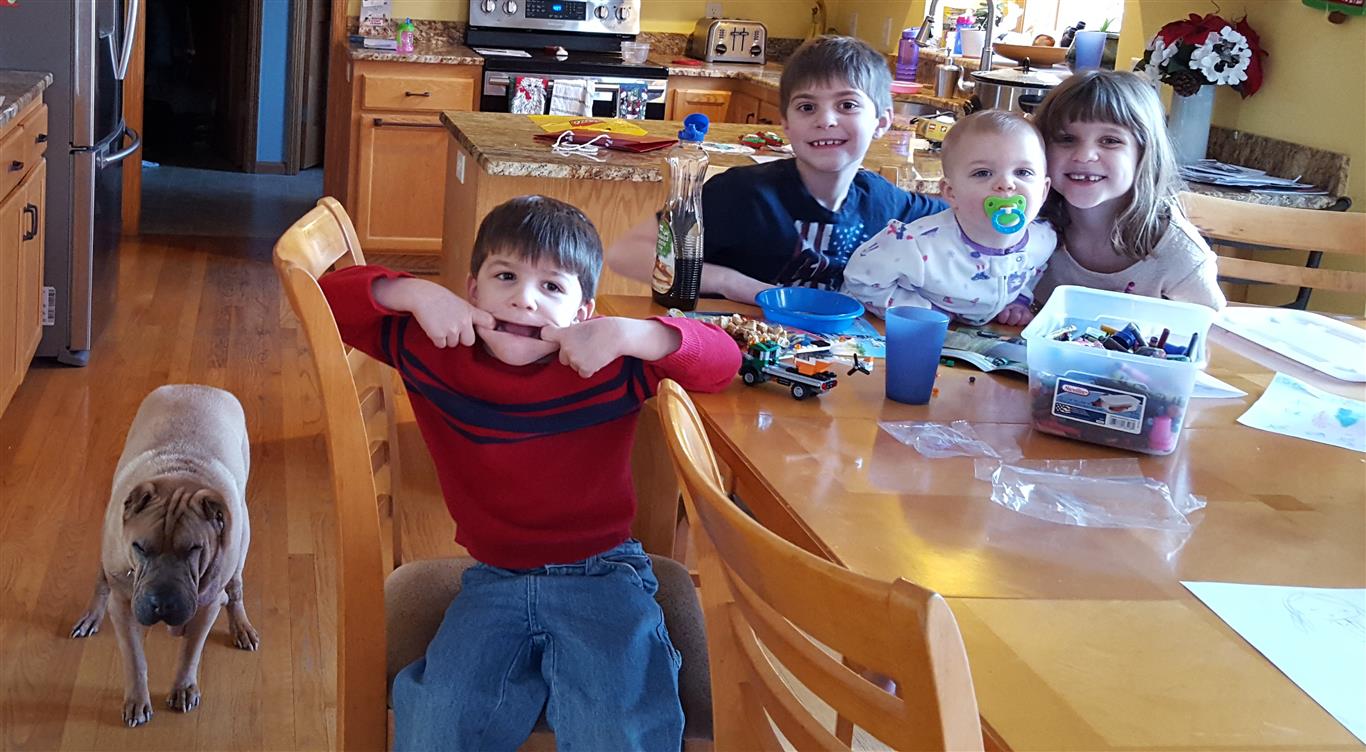 Coloring and being silly!



WINTER
Last winter was filled with snow, cocoa and plenty of indoor fun too. Brooke was able to get outside a little bit and enjoy the snow. She was pretty cute in her one piece snowsuit waddling around. Luckily she had lots of helpers to get her around. This year she almost dressing herself to get out in the snow. She really likes to shovel which is helpful. All of the kids really like sledding and the big kids want to snowboard after dad showed them how to sled while standing up. That led to an injury but it didn't deter the kids from wanting to try!
Evan and Alexis keep busy with scouting in the winter building derby cars and making presentations. They also enjoy doing sports. Everyone gets plenty of swimming and gymnastics time. Last year Deklan tried out t-ball and we found out he is probably a lefty. This year Evan is going to join a basketball league with his friends. We don't anticipate a shortage of time cheering our kids on from the stands in the future.
Brooke is 2 now; she has decided that she will join everyone else and swim on her own (with a noodle). That little girl thinks she is 3 and is doing everything by herself; any help offered is quickly denied. It is fun to see them all learning and trying new things.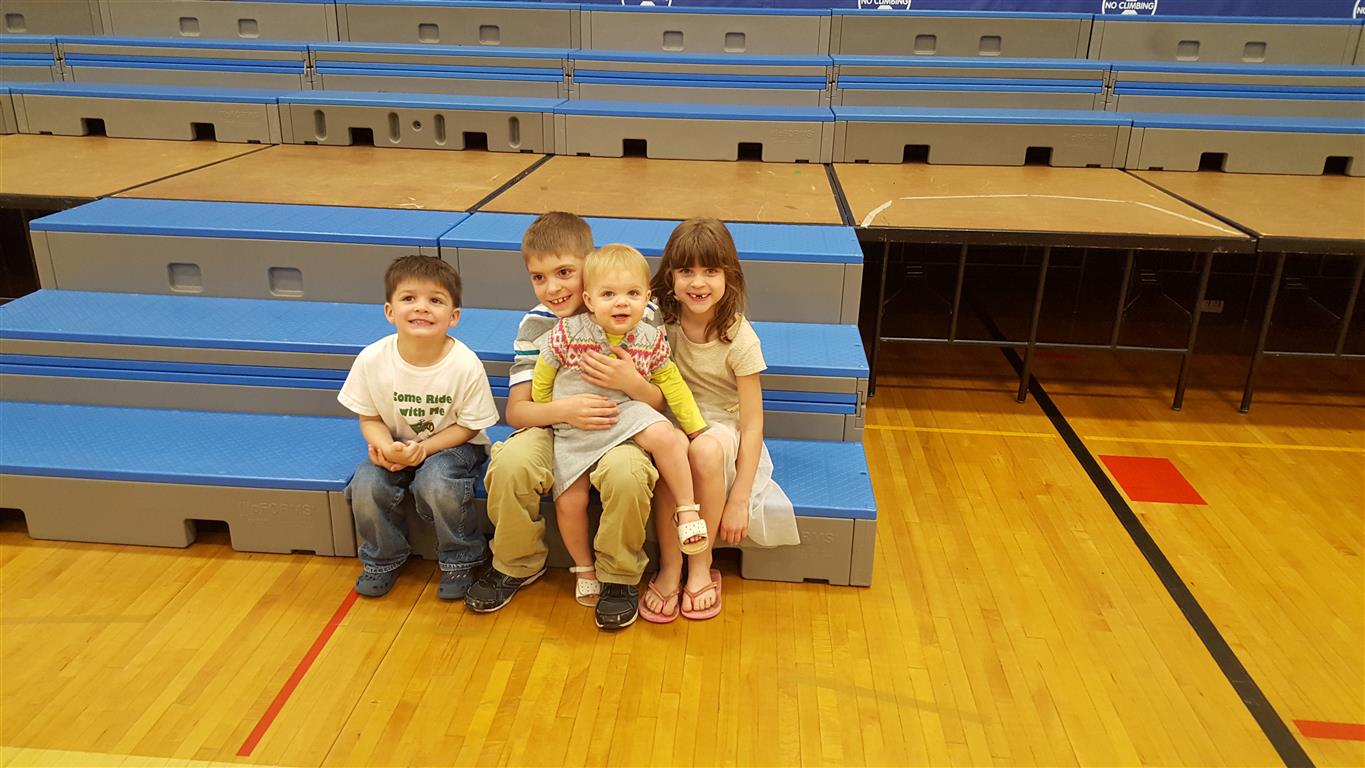 Spring Concert
SPRING
Nathan took on a winter project and finished the storage areas in the basement into play areas for the kids. He made under the basement stairs their own little hideout complete with kid sized doors. They have a great time under there playing school, ponies, Batman and lots of other kids-only fun.
We spent part of spring break in Wisconsin Dells again. They cannot get enough of the ropes course, arcade, go carts and of course swimming. Evan braved a few new waterslides, Alexis is happy to stay on the small slides while Brooke and Deklan are ready to take on the biggest slide they can.
Spring was also filled with field trips with the kids. We went to farms, parks, nature centers and more. There was so much fun we enlisted grandparents often to go on the field trip or watch the other kids while one of us went on a trip. Nathan and I remember when our days off were spent tinkering on our hobbies or relaxing on a beach. They are now spent on field trips, sporting events and many other activities to burn little kids energy off. It is exhausting at times but we know we will look back on these times and cherish them.
Alexis turned 6 this spring and is such a caring, bubbly and sweet girl. She is always making us notes about how much she loves her family and writes something nice about everyone. We are so thankful for her kind spirit.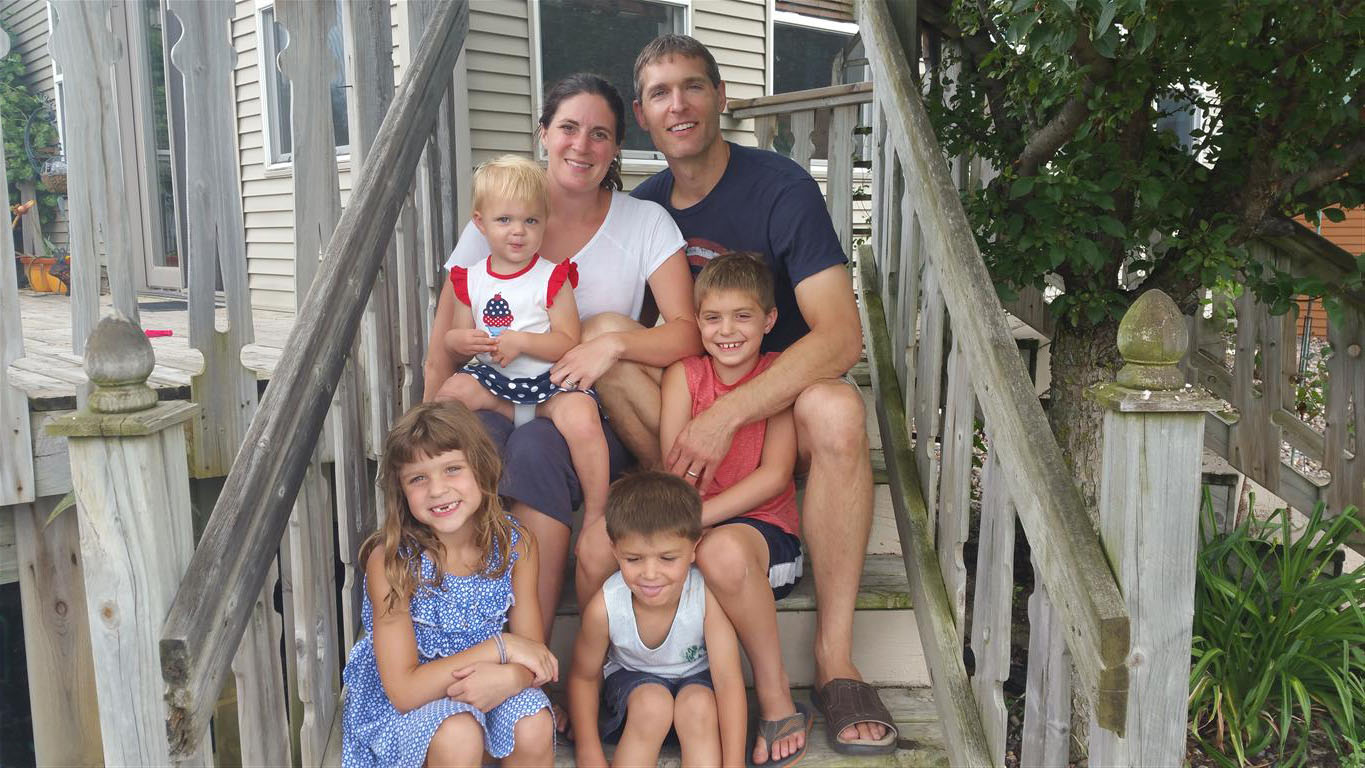 4th of July
SUMMER
Water, water, water. Luckily my kids all enjoy the water because I found plenty of water activities this summer. We were swimming at least once everyday which is a win in my book. We spent a week in Warrens, Wisconsin touring the scenery, swimming and enjoying lots of time with extended family. Unfortunately, Nathan got pneumonia while we were there so he did not enjoy the trip. Lucky for us there was plenty of family around to help me with the kids so he could rest. Nathan is already dreaming of a healthier summer vacation next year and we plan to go boating on a lake as we missed doing that this year.
Perhaps the pneumonia started when Nathan was camping with Evan and they got rained on for 2 days. It was not the Father's Day trip he was expecting but they did manage to have fun. Alexis and I also tried out camping. This was probably the first time I have ever camped in my life and we had a nice time. Someday we will brave a family camping trip...someday.
It was a short summer as the kids returned to school in mid-August, but we still had lots of fun visiting friends, family, parks, beaches, nature centers, pools and more. Next summer is a very long summer so we have even more time for fun in the sun!
Deklan turned 4 this summer. The whole summer he told everyone he was 104 and that is more an indicator of his speed. He is always going at full speed and seems to have energy to spare. He is smart, spunky and full of laughs.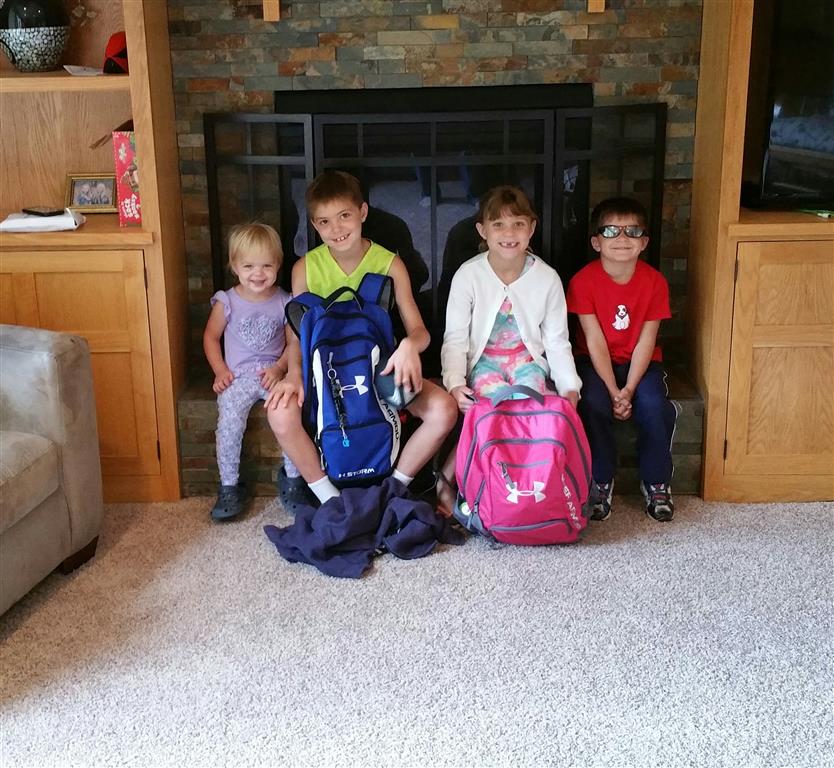 Back to school already!
FALL
Back to school was bitter sweet. The kids were so excited to see friends and meet their teachers. Mom was ready for a routine again. We all wanted to play more! Luckily there were plenty of field trips again and we try to get into the school or class on occasion. Even Brooke gets to help out in Evan's class with mom on Mondays before she goes to her library class. We are so blessed to have amazing teachers for all of our kids this year. Evan is in 2nd grade, Alexis is in 1st grade, Deklan is in morning preschool and Brooke goes to daycare for a couple hours a week while I teach swimming.
Evan tried football this year and Nathan was the coach. They both had lots of fun. Evan says he is excited to play tackle; I am glad we have 1 more year of flag football. Deklan saw all of the fun on the field and decided he would play football too. He really likes it, also. His practice is during the day, but Nathan got to watch one day and witness the cuteness of 4yr old football. Alexis had fun cheering the boys on and went to a cheerleader clinic where she met some Vikings cheerleaders. She decided this year she would try out dance though and really likes it. She is in jazz now but also enjoys going to hip-hop with her friend. Deklan is quite the hip-hop dancer himself and was wondering where the boys were...he's ready for class too. Brooke has perfected her somersault and we'll start going to gymnastics very soon. Nobody has any interest in learning an actual swim stroke from Mom, but I am happy they are all comfortable in the water.
2016 has gone by in a blur. We can't believe how old the kids are getting and how many things they are learning everyday. We are cherishing these sweet times family times. We hope that you also take joy in the fun little moments of life!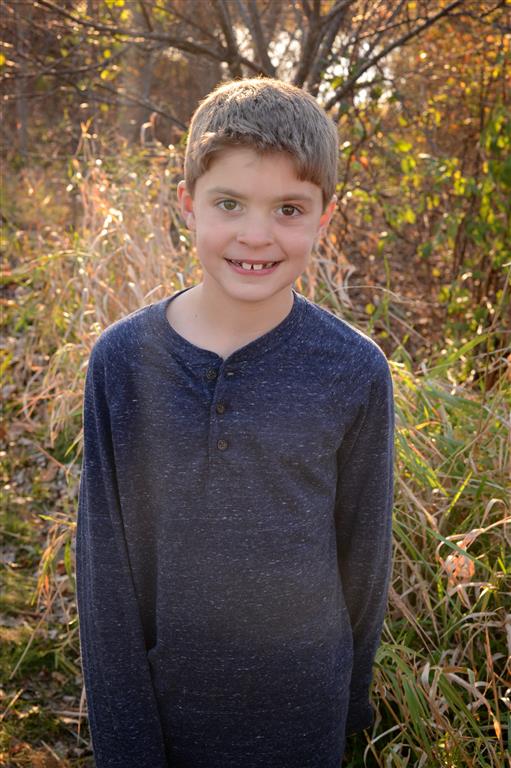 Evan (8)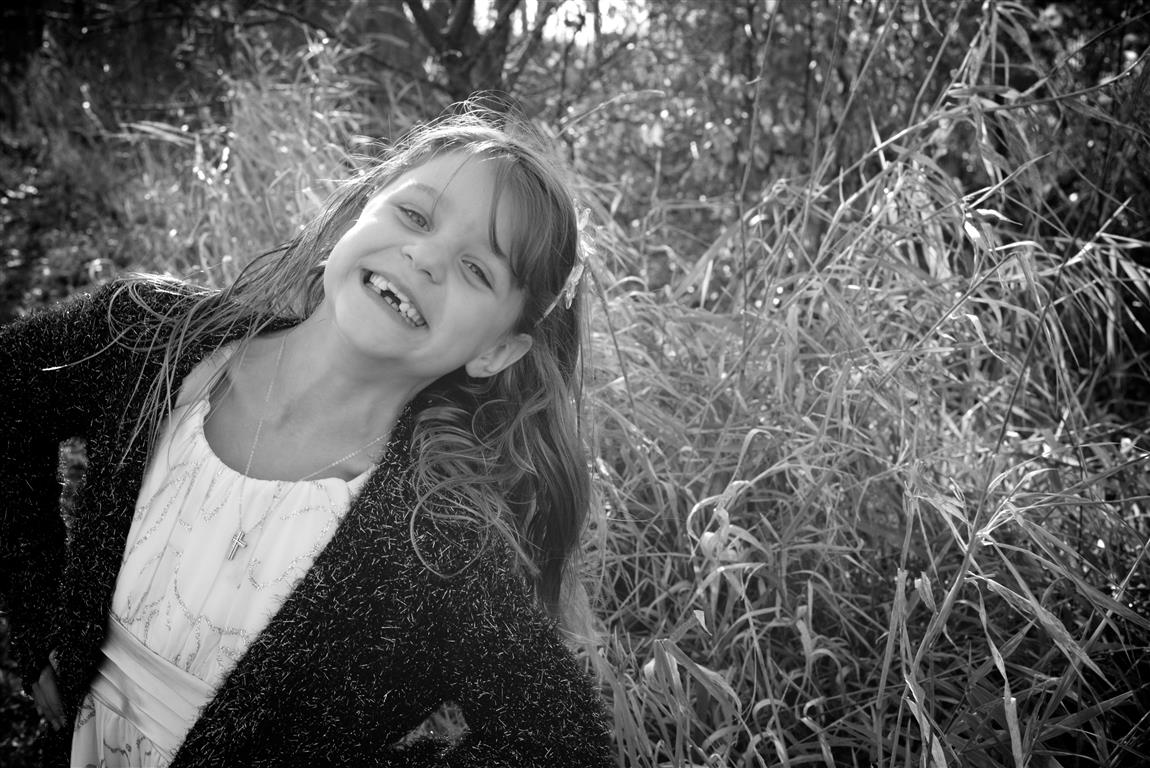 Alexis (6)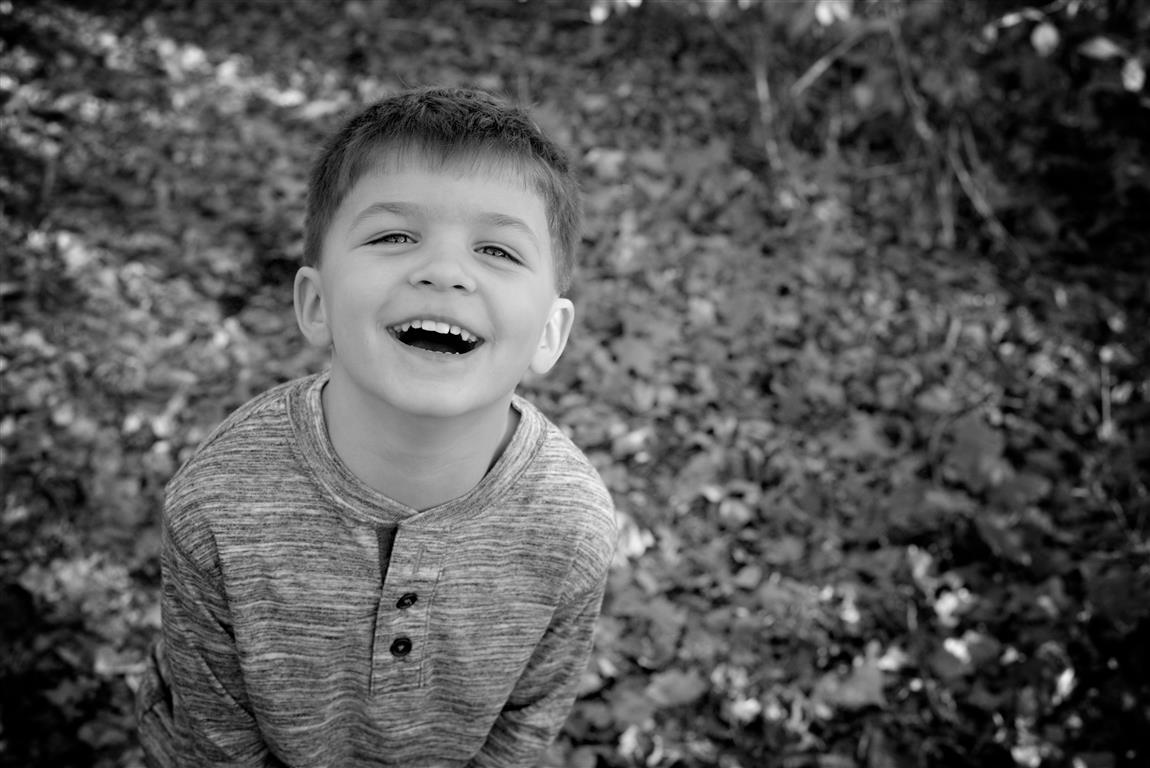 Deklan (4)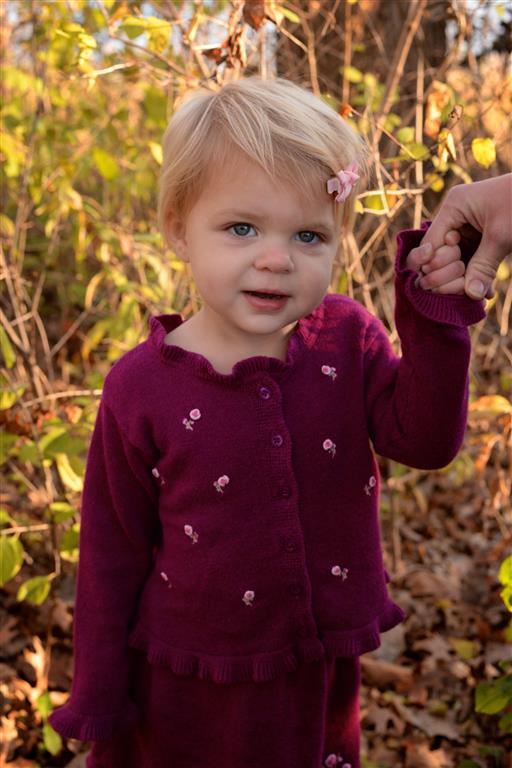 Brooke (2)